A quick note on today's (January 12, 2022) inflation data release…
As I've written numerous times before, within the next several months we may actually be talking about the risk of deflation.
US inflation data released today showed inflation moderating in line with consensus:
Headline CPI: 6.5%
Core CPI: 5.7%
Month of over month headline CPI: -0.1%
Month over month core CPI: 0.3%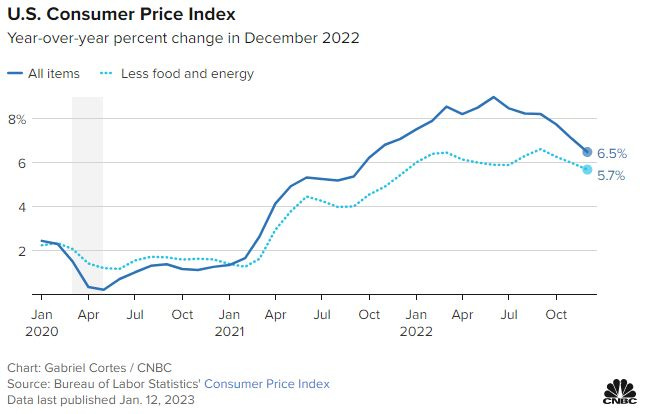 On the surface these numbers appear positive but relatively benign. However, when picked apart we start to see a real disinflation story emerging. The first chart below compares commodities inflation (goods) to services inflation. Goods inflation is already very close to the Fed's 2% target, supporting the disinflation story as input prices flow through to final goods. Services prices are still pulling up overall inflation but should come down with some delay.
The second chart removes shelter from the CPI data and projects an annualized rate based on recent data. The media headlines focus on what happened in the past (i.e. year-over-year data). This chart extrapolates on what's going on right now. Looking at this chart, it's clear that the rate of inflation has significantly declined and it's only a matter of time (if month-to-month trends continue) until we see the year-over-year data decline significantly.
Of course, this chart doesn't include housing, but with rents in many parts of the US coming down this slow moving component should follow (and accelerate) the downward trend.
What's causing inflation to slow?
The combined effects of higher prices and higher cost of money (via interest rates) is squeezing the consumer and businesses. Real income growth has been negative for 21 months, putting pressure on consumption. Employment is being propped up by part time jobs and multiple job holders. Most businesses are behaving conservatively with expense management and investment. Zombie companies are fading into the background.
These are all disinflationary pressures.
Note that disinflation and deflation are two different things. The first is slowing inflation and the second is negative inflation. The problem is one can easily lead to the other.
The Fed is likely to hold rates at elevated levels until it is confident it has defeated the inflation dragon. While this is happening, consumers and businesses are under pressure and inflation is already breaking down. I think the longer this situation continues, the greater the risk we overshoot to the negative. It's not a sure thing, but in six months the economy may be one moderate shock from outright deflation.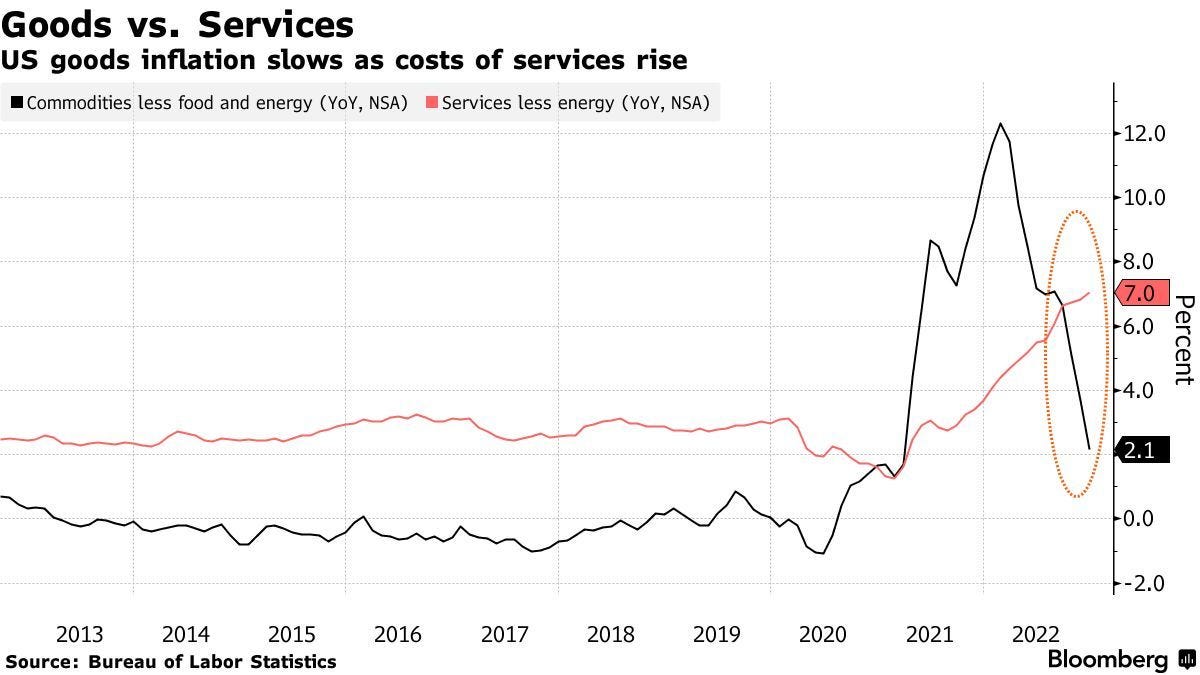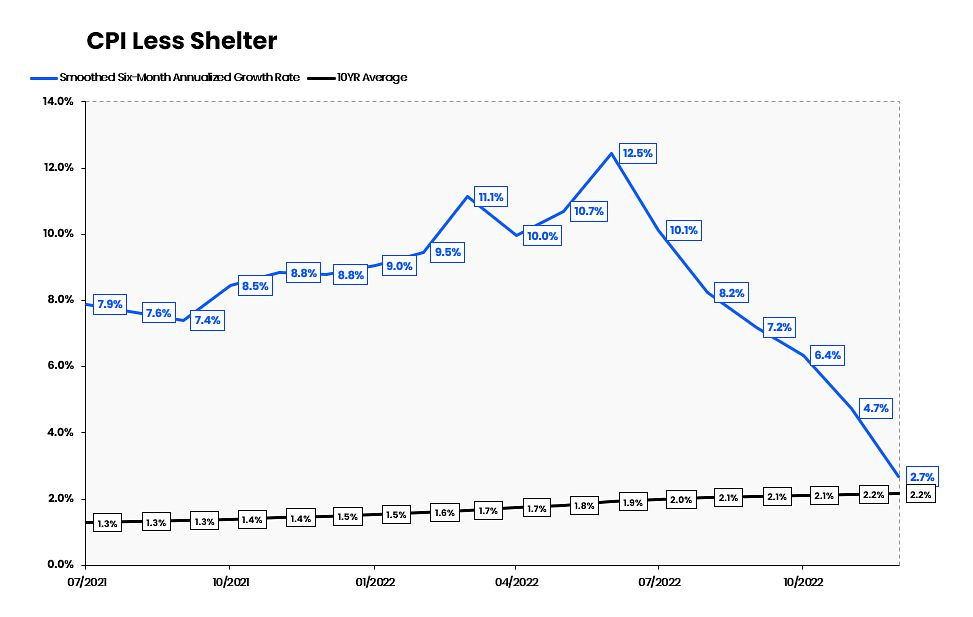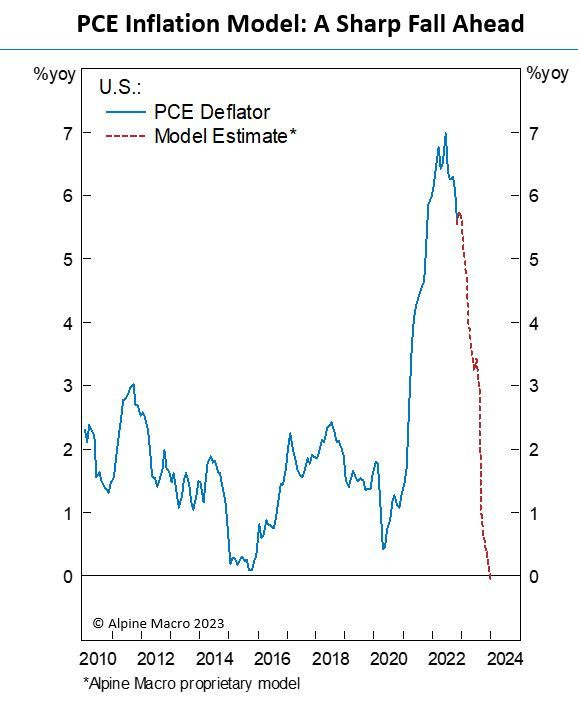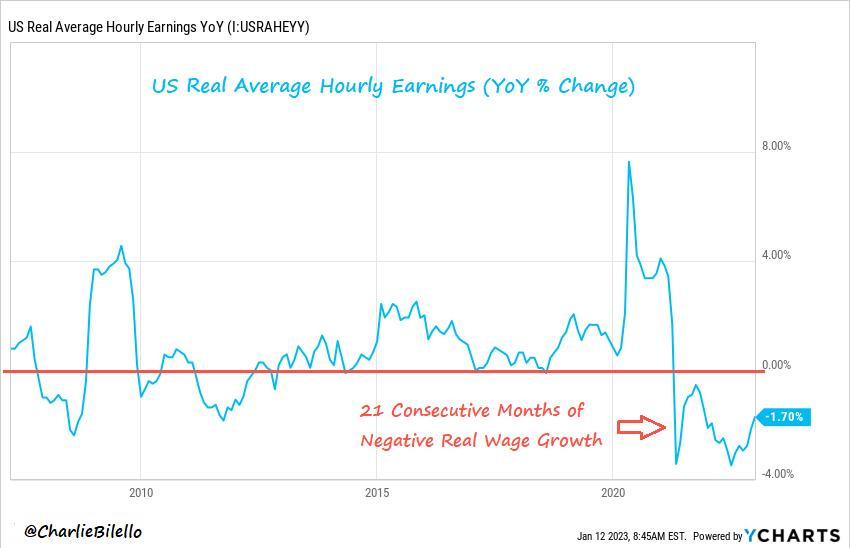 What are others saying?
"Inflation is quickly moderating. Obviously, it's still painfully high, but it's quickly moving in the right direction. I see nothing but good news in the report except for the top-line number: 6.5% is way too high."

– Mark Zandi, chief economist at Moody's Analytics

"Overall, these numbers confirm that the inflation surge of 2022 is ebbing and, barring some shock, inflation should fall further throughout 2023 and 2024. The Fed still seems determined to return inflation to its 2.0% target as soon as possible. However, this progress on inflation reduces the risk of aggressive tightening from here and, as such, should be positive for both stocks and bonds."

– David Kelly, Chief Global Strategist at JP Morgan Asset Management

"We know that we won't get the same kind of support from gasoline prices. So don't expect the next report to look as good as this one. But the trend is favorable."

– Simona Mocuta, chief economist at State Street Global Advisors.

"…overall US inflation rate (YoY % Change) moved down for the 6th consecutive month and is at its lowest level since October 2021. Core inflation is at its lowest level since December 2021. Shelter is the reason for the core CPI MoM acceleration; we know that there are some lag effects and that Shelter probably now overstates the real estate reality (it was underestimating it before).
These numbers are consistent with our core scenario which is for US inflation to cool down but to stay higher than Fed target for a while. "

– Charles-Henry Monchau, Chief Investment Officer at Syz Group