There are some signs of investor capitulation. Put differently, investors are expecting the worst, and therefore the worst may already be priced into risk assets.
If this is correct, any hint of better than expected Q2 earnings or moderating inflation could cause stocks to rally. The bar is set so low that it won't take much better-than-expected news for markets to move up.
Let me be clear: I'm not making a bull or bear case. Nobody can pinpoint the bottom. I'm simply observing the flow of information to gauge the current state of the markets.
What does capitulation mean?
I'm basically referring to investor sentiment, and the actions resulting from that sentiment. Capitulation occurs when sentiment falls to extremely low levels, and investors are universally pessimistic about the future.
Capitulation is often associated with trades that we're seeing now, such as long USD, short equities and short Treasuries. As shown in the following charts, these are the trades de jour for many investors, according to Bank of America's Fund Manager Survey.
While some take comfort that these seem to be the 'sensible' trades, it is often a contrarian sign when everyone agrees. At the moment, convincing someone to go long equities is an uphill battle. This paradigm suggest a lot of the bad news may be already priced into the markets.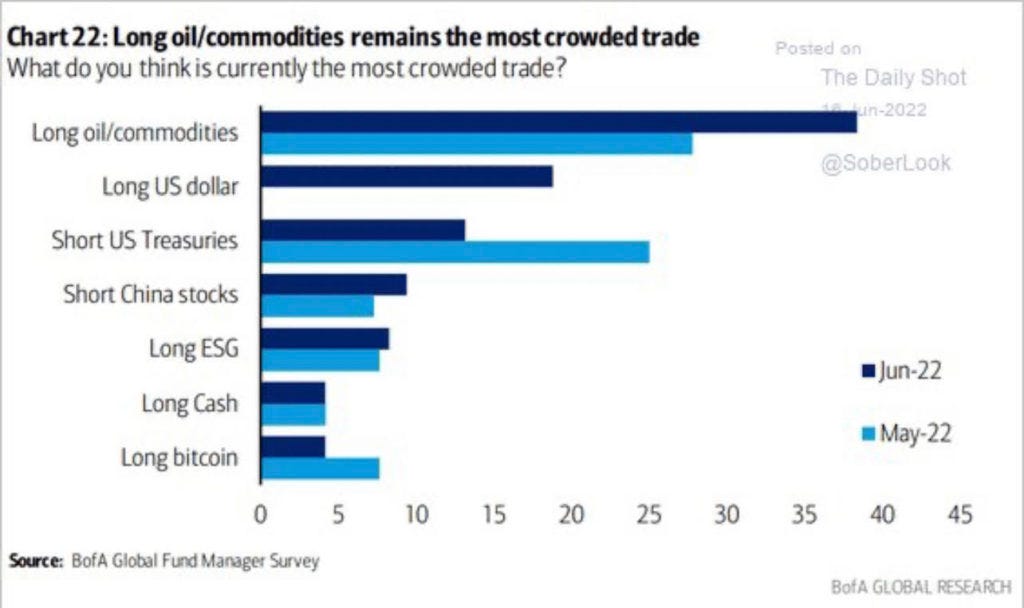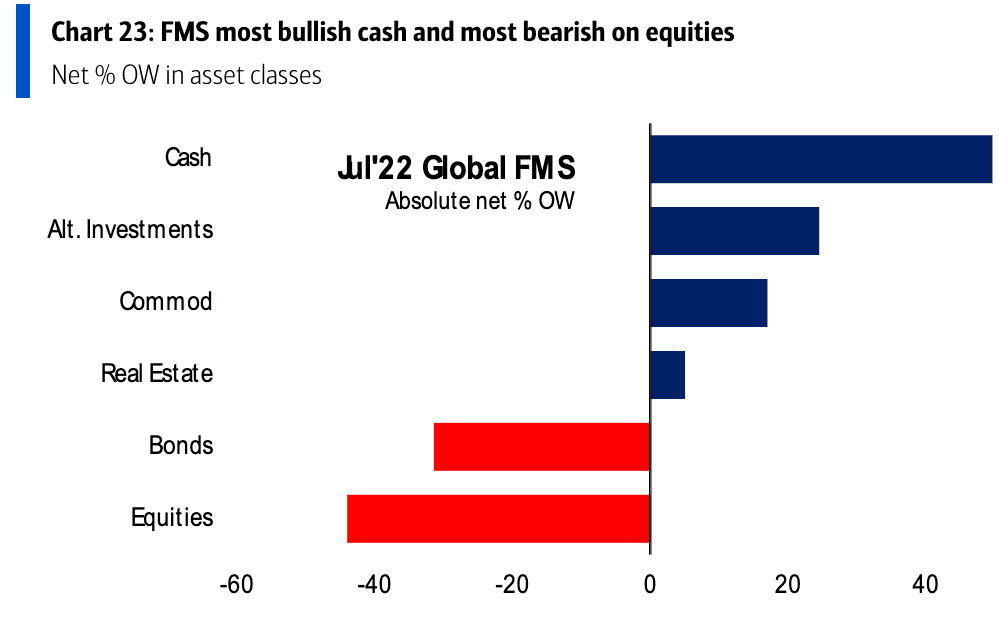 Investor positioning is currently driven by a deeply conservative risk appetite. The following chart shows risk appetite is lowest since the middle of the Lehman Brothers collapse.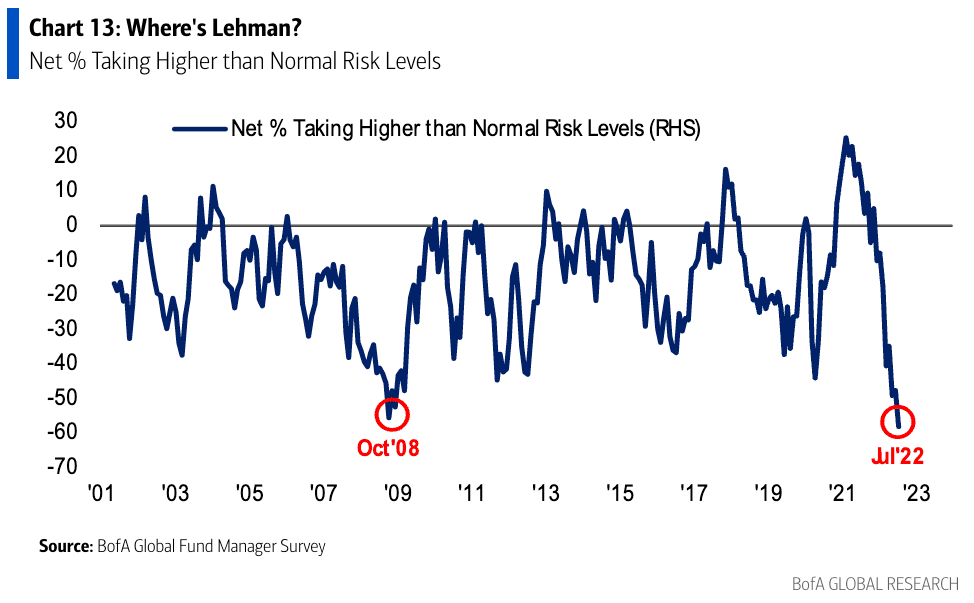 The next chart overlays economic expectations on top of equity allocations, again rivalling levels not seen since the Global Financial Crisis.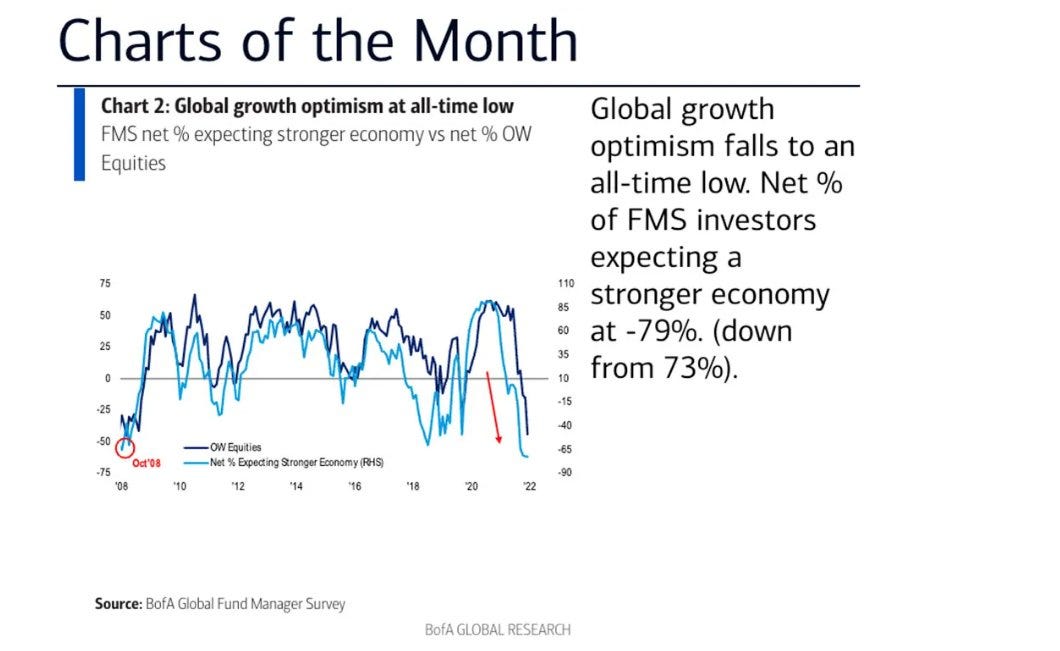 Investor sentiment is at historic levels of pessimism and portfolios are positioned accordingly. Aren't investors pessimistic for good reason?
Yes, but by the time investor sentiment (whether negative or positive) becomes pervasive and universal, the associated price adjustments have already been made.
"Buy when others are fearful."
If sentiment proves to be too fearful (meaning news flow is better than expected) investors could rush to the entrance to cover short positions and go risk-on.
How do we know if / when sentiment is too pessimistic?
It's all relative and subjective. But one clue is survey readings, like Bank of America's Fund Manager Survey. Today, determining whether current sentiment is too pessimistic I think comes down to two things: Q2 earnings and inflation.
So far, of the 7% of companies that have reported (as of July 15th), earnings appears to be a mixed bag. Of that 7%, 60% have beat analyst expectations. This is down from the five year average of 77%. Also, margins are down year-over-year. I'd chalk that up to one positive and two negatives for earnings.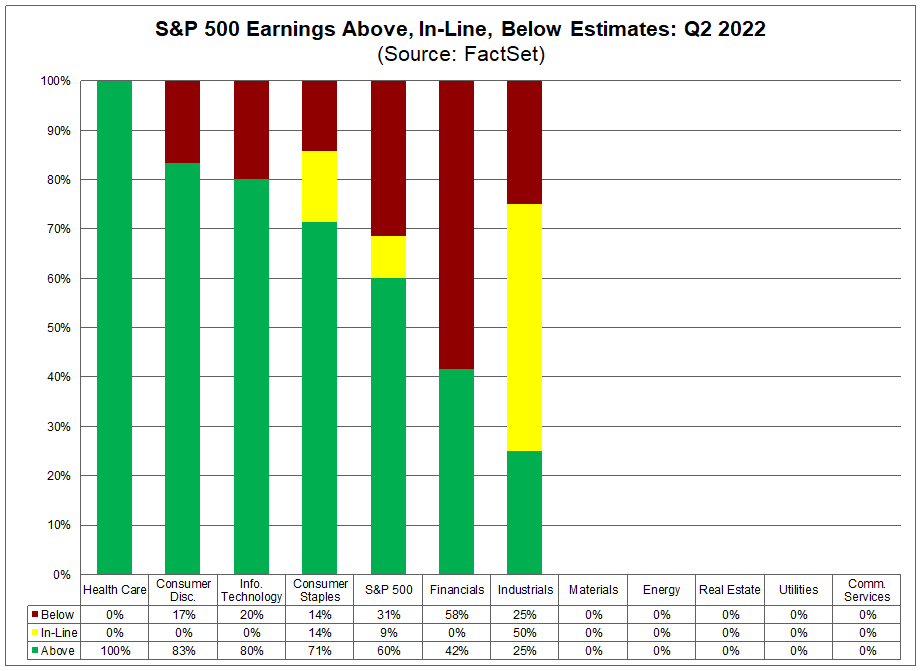 The other key factor is inflation. Inflation prints so far have hammered market expectations. Many investors are now embracing the argument that inflation will remain high for a long time.
Imagine two years ago telling someone CPI would reach 9.1%. They wouldn't have believed you. Now imagine telling someone CPI will return back to 3%. It's not an easy argument to accept. Therefore, any sign that inflation is weakening would be a positive surprise to many investors.
Moderating inflation would reduce pressure on yields, the discount rate and p/e multiples. This is positive for risk assets, including stocks.
It is too early to tell, but it is possible inflation moderates over the next few months. With several key commodities experiencing significant drops from recent peaks, inflation pressures could begin to ease. Prices don't even need to decline for inflation to soften. We only need to see price increases slow back to a normal pace. Recent trends in commodity prices suggest this might occur. Over a few months, weakening commodity prices should eventually feed through the economy to consumer goods and services.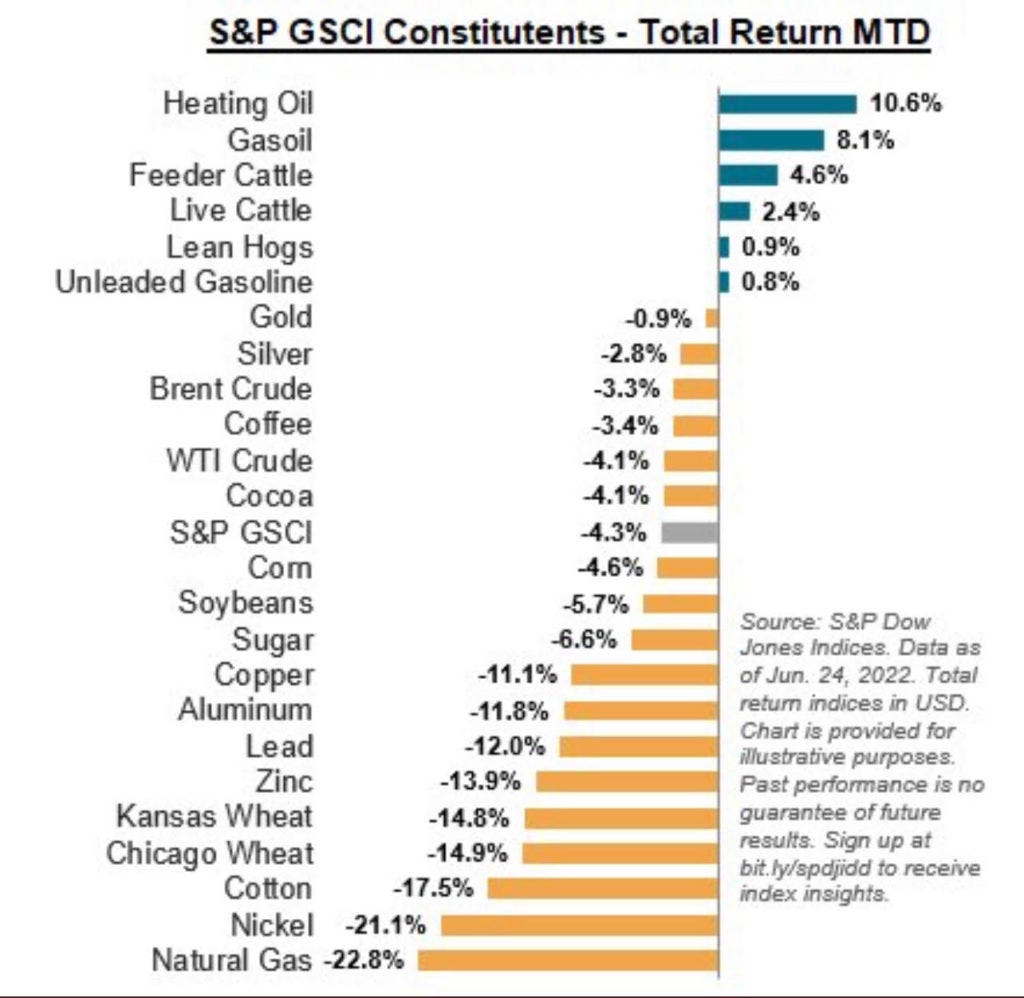 Fed Funds futures contracts appear to be anticipating a moderating of inflation, and therefore monetary policy. As shown in the following chart, the market is pricing a peak Fed Funds rate of about 3.5%, declining into 2024 and 2025. Could we actually be in a deflationary environment with falling yields within 12 months? Sounds just as crazy as telling someone two years ago that inflation would hit 9.1%.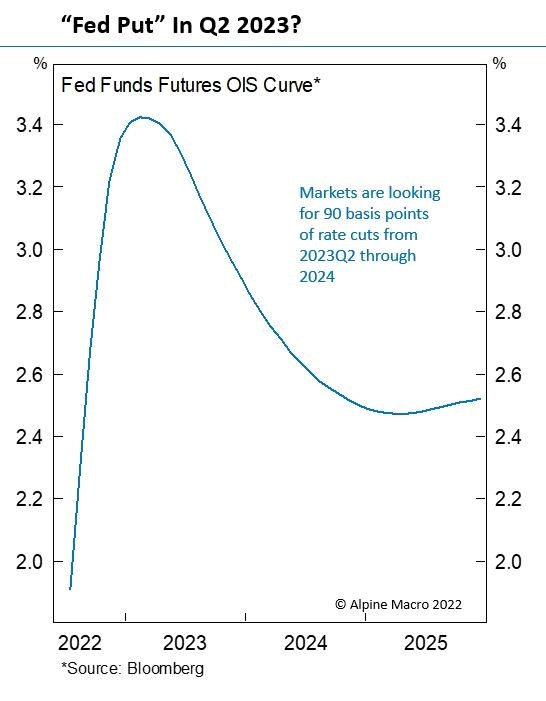 Further fueling this point, retailer inventories are building up and this might put a cap on prices for many goods. Another point for the deflationists.
Believe it or not, supply chains are still messed up. But now we are experiencing the opposite of mid-pandemic supply disruptions. In response to pandemic shortages, many retailers booked orders and manufacturers ramped up production beyond what was actually needed. This is referred to as the bullwhip effect, as shown in the following chart. Now that consumer needs have shifted away from buying crap on Amazon some retailers have a glut of inventory they must destock.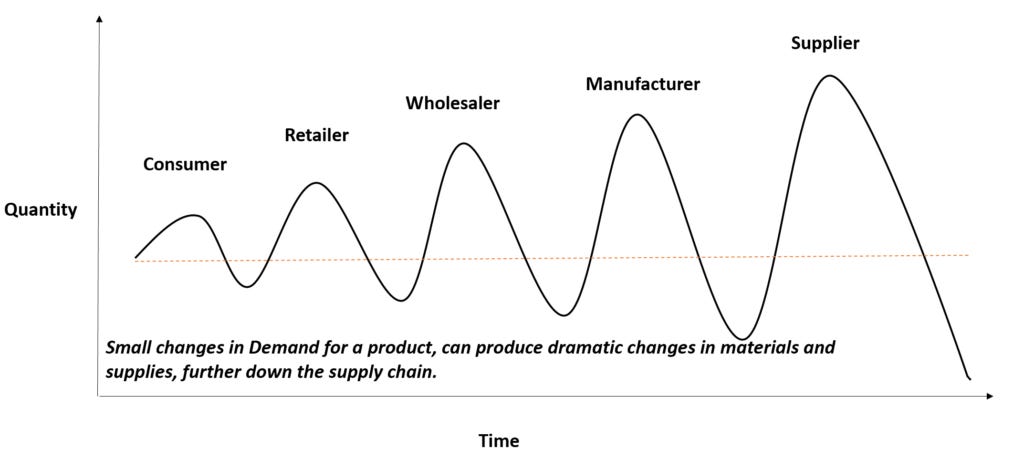 Portfolio positioning
Let's be real. Trying to pick a market bottom is like working on a puzzle where pieces keep changing. The best we can do is muddle through the onslaught of data to form an outline of shifting reality.
Nobody can tell you if markets are near a bottom. Maybe pessimism has peaked, or perhaps people aren't pessimistic enough and the bear market has much further to go. This could happen if economic data gets decimated, adjustments become disorderly and/or inflation remains out of control. Any sign of systemic stress could do this. The bear market of 2008 was fairly orderly until Fannie and Freddie got taken out. And then came the Lehman collapse.
With the information available right now, it is starting to feel like everyone is on the same side of the boat. I never am never comfortable taking the easy side, and right now it feels most comfortable to be bearish. Consequently, I am looking for hints that either validate or invalidate prevailing investor sentiment.