With 10 year yields continuing to rapidly rise (today closing solidly above 3%), oil holding strong, the DXY up and stocks experiencing the worst day since 2020 the market seems to expect the current rates, growth and inflation environment to persist or worsen.
Yesterday's 50bps increase ain't enough and everyone knows it. But what is? And how badly will it hurt?
The Fed's Jim Bullard thinks the Fed Funds rate should hit 3.5%. Ex Fed Vice Chair Richard Clarida echos this sentiment, arguing rates will need to rise well above 'neutral' to tame inflation.
3.5% is still five 50bps rate hikes away, which over a normal course could take months to execute. Meanwhile, the year-over-year change in CPI was 8.6% in March.
The gap between CPI and the Fed Funds rate (chart below) is at its widest point in history. Yes, worse than the 1970s. The Fed is clearly behind.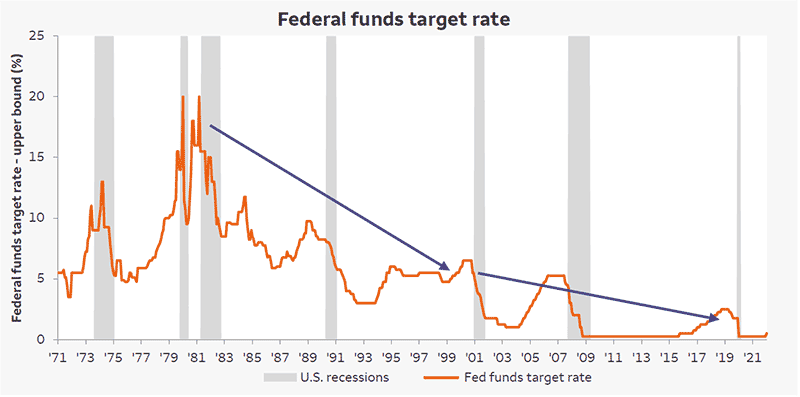 If we're lucky, inflation rates will naturally decline as prices stabilize (albeit at higher levels) and year-over-year comparisons level out, taking the pressure off the Fed.
If we're unlucky, the Fed will need to get increasingly aggressive to reduce inflation and push the economy into a recession. Historically, the Fed often overshoots and rate cycles don't peak until signs appear that the economy is slowing (chart above).
If we're very unlucky, inflation will persist despite a Fed-induced recession. I believe this is Mr. Market's worst fear at the moment, and I don't think this possibility is remote. In fact, once relegated to economic Cassandras this outlook is increasingly becoming a base case for many.
The world is undersupplied – energy, fertilizers, labor – pushing prices up. More expensive credit will weaken demand, but it could also counter-productively weaken supply even further. If the cost of capital rises, businesses won't invest in the productive capacity needed to create additional supply. Supply was tight when money was virtually free. Can you imagine what it'll be like now after Baa yields have risen 200bps? Or after another 200bps? What you're potentially left with is high inflation and low growth – aka stagflation.
This is an ugly scenario for both stocks and bonds, explaining why both asset classes – which are typically negatively correlated – are getting hammered in unison.