John Hussman of Hussman Funds is pretty bearish. Others are bullish. But I think it's investing best practice to listen to both the optimists and pessimists. Only then can you approach the markets with a balanced perspective.
In his most recent market commentary, Hussman makes several points that shouldn't be ignored. His most recent commentary is quite long, so I've provided a visual summary of his key points and charts below:
---
Valuations are at record highs for all stocks (not just an especially expensive segment of the market). The chart below shows price-to-revenues broken down by decile. Across the entire range of valuations, all segments are at record price-to-revenue ratios.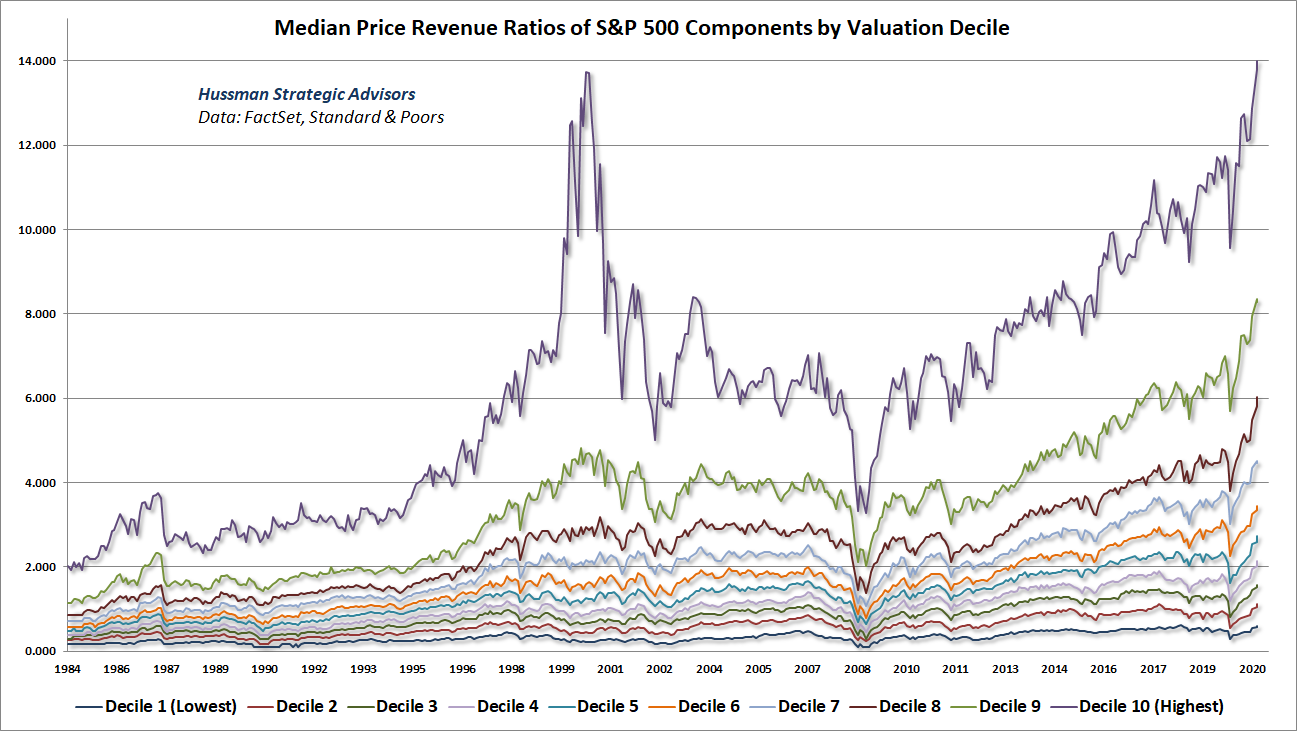 The same is true when breaking down the market by market capitalization. Small, medium and large cap stocks are all trading at record valuations.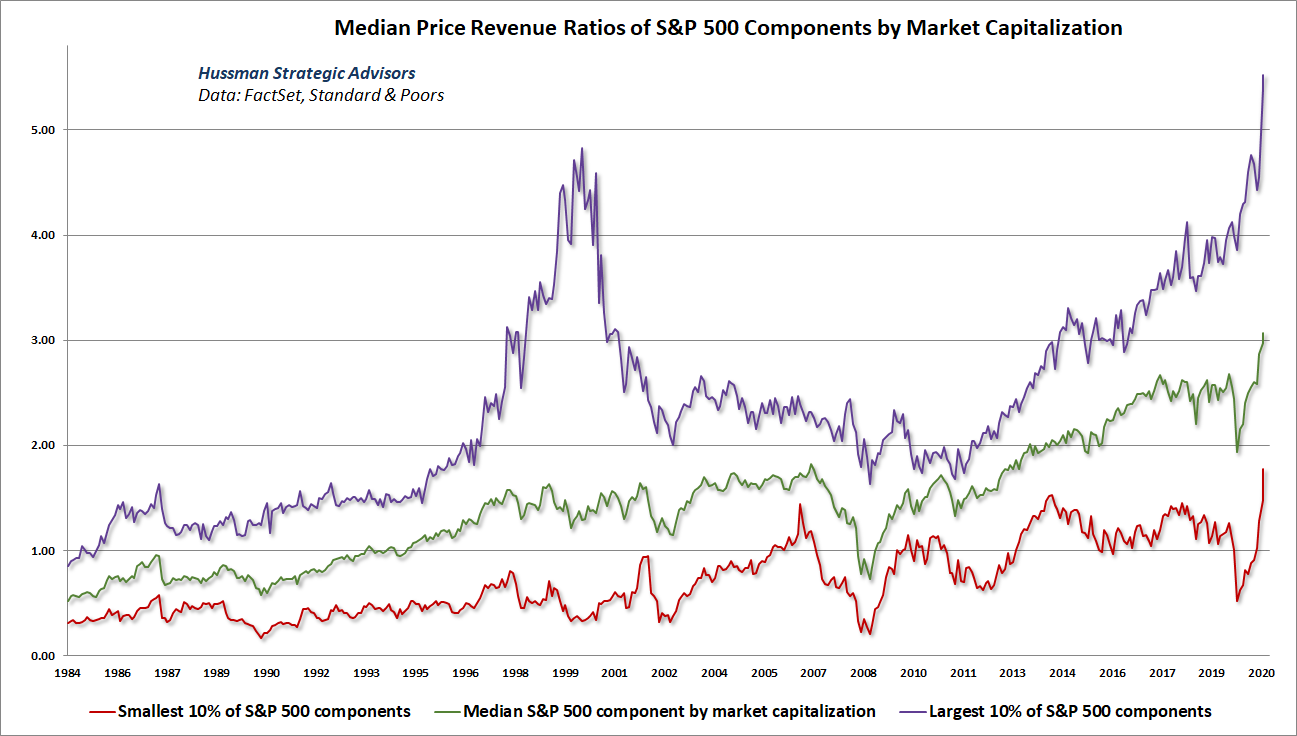 Companies with negative earnings in particular have skyrocketed in valuation. This speaks to investor focus on the future. Unfortunately, expectations – like during the Internet bubble – often go unrealized, and lofty valuations eventually fall back to Earth.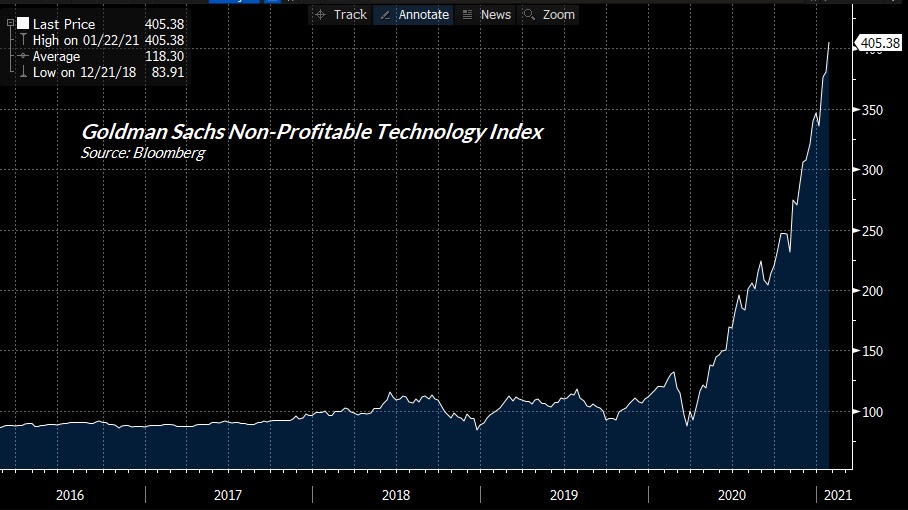 As an investment strategy, hope is prevalent in the IPO market too. New issues – such as the recent Bumble IPO, which jumped 64% on the day of listing – shoot to the moon. Yet, many of these companies barely have any earnings (or even revenues in many cases) to speak of. Again, investors are flocking to IPOs in the hope of profiting off massive future potential.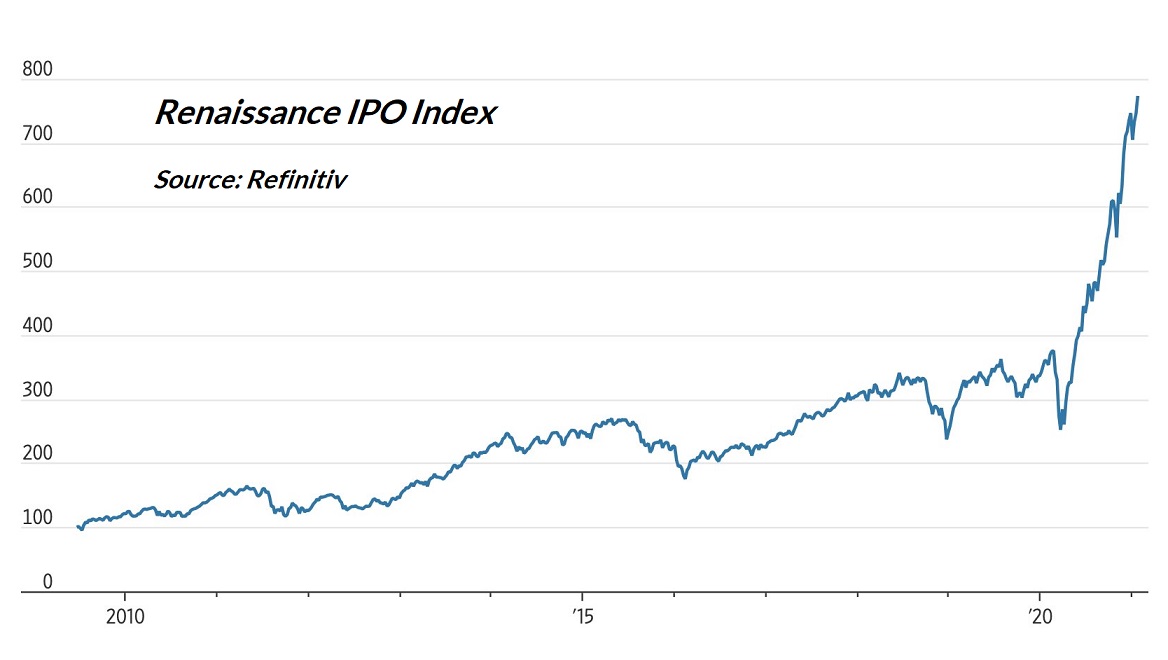 Investors are so confident in the future they are willing to borrow to place their bets. Accordingly, margin debt as a proportion of GDP is at record levels! Borrowing to invest is a risky strategy. While one can profit handsomely investing other people's money during a bull market, once asset prices turn it can lead to poverty. Moreover, the collective level of margin debt tends to exacerbate market declines as investors clamor to liquidate at the same time.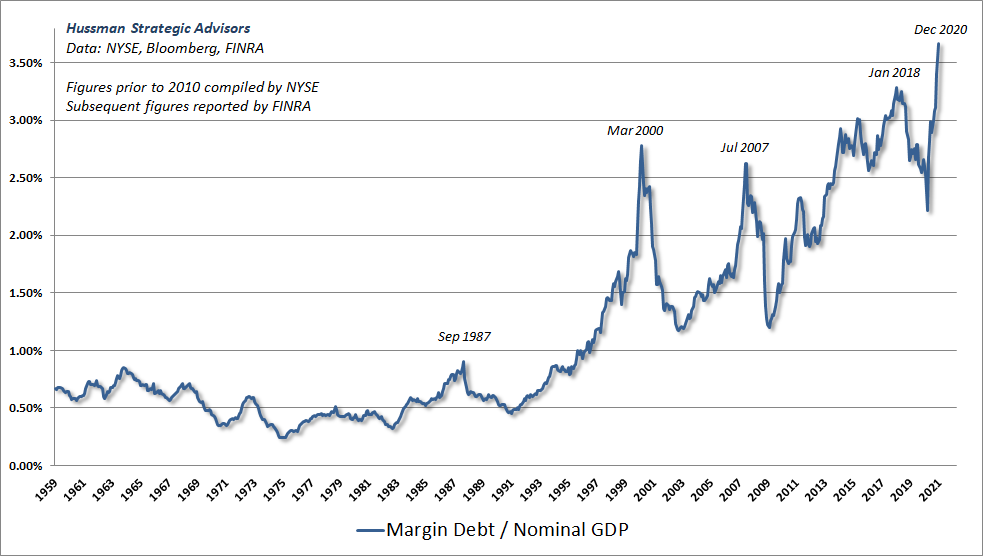 The US stock market capitalization is at record highs relative to US GDP. The value of companies relative to the value of what they produce has risen immensely.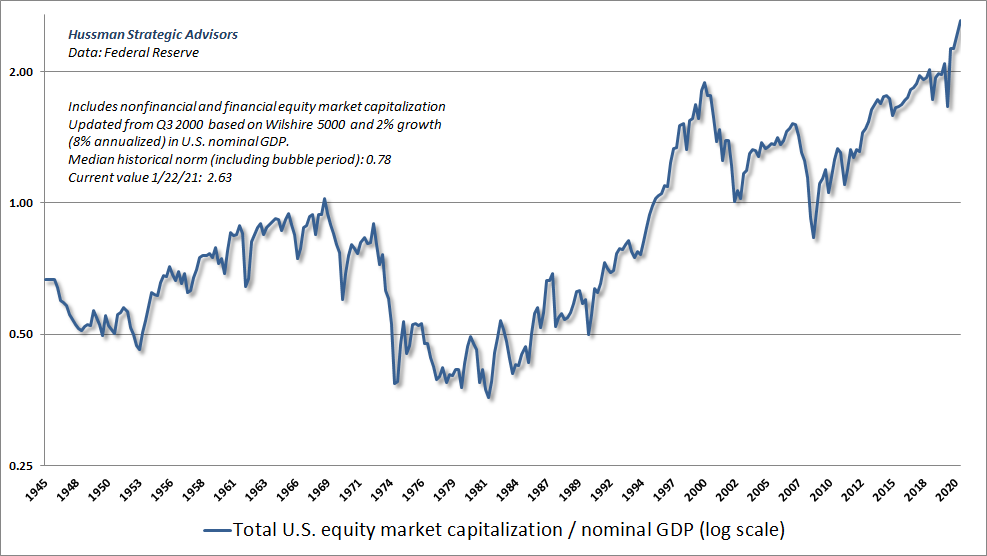 Perhaps these charts don't concern you because you're a 'long-term' investor. Well, they should.
Valuations tend to be a pretty good predictor of future returns. The chart below maps Hussman's estimated 12yr forward returns against actual forward 12yr returns – you can see the fairly tight relationship. Currently, Hussman's model is forecasting a forward annualized 12yr return of -2.15%. Yes, negative. And yes, it is possible that long-term returns are negative because it has happened before. Moreover, historical periods of negative long-term returns tend not to be graceful and orderly. Rather markets violently oscillate between upward momentum and downward spirals.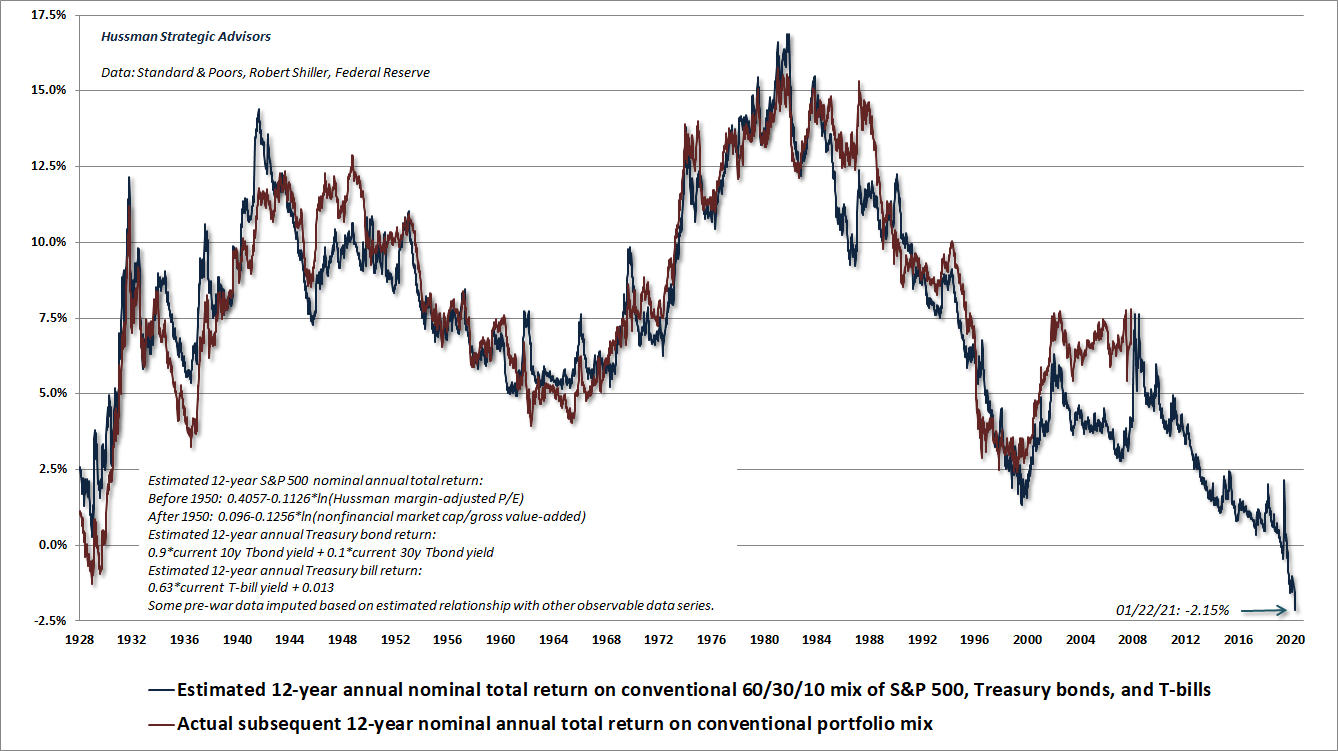 Is Hussman right this time? I don't know. Nobody can predict the future. And the future doesn't have to look like the past. So who's to say that valuations don't stretch even further? Or that revenues and earnings climb rapidly to close the valuation gap?
I don't know. You don't know.
But what I do know is that history shows the risks are real. Hussman is observing rhe signposts.
I'm not arguing there will be a crash tomorrow. Yet, the probability of one grows as valuations are stretched and investors gain confidence.
My suggestion to all investors is to keep your confidence in check. If you start to feel highly confident in your investing prowess you may be taking on too much risk. Great declines are often preceded by great hubris. Be aware of your own behavioural biases and remind yourself that investing in stocks could mean losing 50% of your money at any point in time. And no, you're not good enough to get out at the right time.
If Hussman's market return projections are right, individual investors will perform far worse. Most investors tend to plough more money into investments near market peaks and withdraw money near market bottoms, experiencing all the downside and missing out on upside.
Consequently, most investors could have real world experiences far worse than -2.15% annualized over the next dozen years.