Summary
In my opinion, BCE benefits from the insulating properties of Canada's telecom oligopoly, and therefore should benefit from long term pricing power and customer retention. The stock trades at a reasonable valuation and has a good dividend track record. As a dividend growth investor, BCE is part of my portfolio.
Please consult a registered professional before making any investment decisions for your own portfolio.
Companies in Oligopolies Are Insulated From Competitive Forces
Canada has a relatively small population that is spread across a vast geography. This has profound implications for the structure of the Canadian economy and the companies that dominate.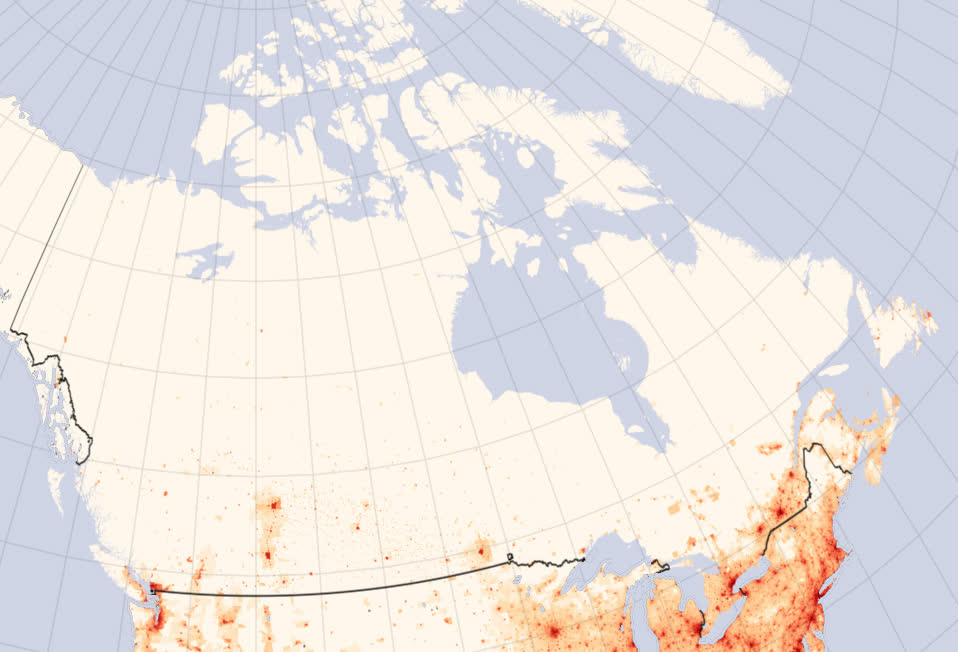 Source: Wikipedia
Simply, Canada doesn't have the population size or density for many industries to support multiple companies operating at efficient scale. For this reason, many industries in Canada operate as oligopolies, with a handful of dominant players with little to no threat from new entrants. This is especially true in industries with high entry costs like telecommunications, media and financial services.
Since it is difficult to create scale in these industries, there is the constant threat to the Canadian economy that the number of players in these oligopolies shrinks. Many would agree when I say executives in these industries are usually closely tied with government, receiving implicit support for profitability. (If the Canadian government wasn't trying to insulate these industries they'd make it easier for foreign competition to enter the marketplace!)
These industries provide core infrastructure to the Canadian economy, so to balance access with profitability the Canadian government must turn a blind eye to obscene pricing.
This sucks for Canadian consumers, but it's great for investors.
Telecom Giants
Let's look at Canada's mobile phone industry as an example. The following chart compares mobile phone plans in Canada with those in the United States. As you can see, Canadians pay a 15-40% premium for the same service.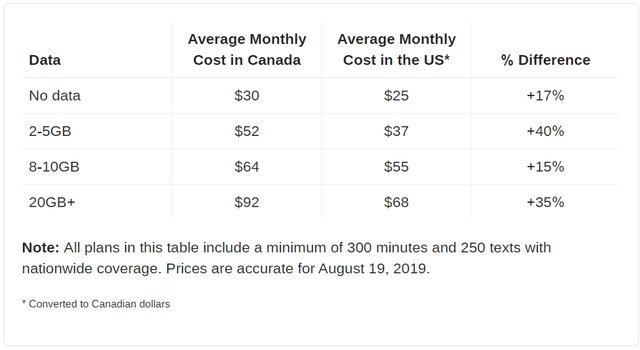 Source: WhistleOut.ca
Despite higher prices, there remains little choice and consumers aren't deterred from buying. Consequently, the big 3 carriers (BCE, Rogers and Telus) in Canada – which have a 90% market share – continue to grow mobile revenues.
Of course, these big 3 telecom companies provide more than just mobile phone services. They are telecom and media conglomerates that control Canadian wireless, wireline, internet, media and professional sports franchises. Essentially, these companies control a huge portion of everything seen and heard in Canada. Not all business segments are shooting the lights out, but they retain tight control and strong pricing power. Moreover, the bundling effect of packaging several related products and services provides a strong customer retention incentive and helps drive out pure-play competition.
BCE
BCE is Canada's largest telecommunications company with a customer base of over 22 million subscribers. This is approximately 60% of the entire Canadian population. With its wireless infrastructure reaching 99% of the Canadian population and wireline infrastructure reaching about 75% of the population, BCE is well positioned for continued subscriber growth.
Canadians love to complain about BCE (aka Bell) and its main competitor Rogers. (I'd love to read your stories in the comments below.) However, given its infrastructure and network quality – and with few alternatives – Canadians continue to fork over money to the many brands that BCE controls.
For those not familiar, BCE owns the following (which I copied from BCE's website):
| | |
| --- | --- |
| Business Line | Description |
| Bell | Canada's broadband leader providing advanced wireless, Internet, TV, smart home and business services over our world-class LTE and fibre networks. |
| Bell Aliant | Atlantic Canada's leading name in residential Internet, TV, and home phone services, and a trusted partner to business and public sector clients. |
| Bell Media | Canada's leading content creation company with premier assets in television, radio, out-of-home advertising, and digital media. |
| Bell MTS | Manitoba's top name in home and business communications, and a leader in managed data and professional services through our Epic subsidiary. |
| Lucky Mobile | Low-cost prepaid wireless featuring convenient account management app and flexible add-ons for data, international calling and more. |
| Northwes Tel | Leading investor in communications infrastructure in Canada's north, providing Internet, TV and phone services over a vast territory. |
| The Source | Canada's largest tech retailer, offering the latest products from top brands and knowledgeable associates at stores across the country. |
| Virgin Mobile | National provider of pre- and post-paid wireless services with award-winning customer service and innovative Member Benefits. |
Source: BCE Website
The Bell brand is currently the top non-financial brand in Canada, as rated by Brand Finance's list of the Top 100 Canadian brands for 2018. So it appears that a vocal minority of complainers is out-weighed by a silent majority of BCE customers (or at least by the committee that ranks these brands).
While BCE's oligopolistic power helps retain customers, it actually does provide a valuable, high quality service. So it's not hard to understand why many people are fine with BCE's products and services.
As a lead company within the Canadian telecom oligopoly, I expect BCE to retain this market power, as it continues to own, control and invest in critical infrastructure, including 5G. This gives BCE a market position that is unlikely to erode anytime soon, in my opinion.
BCE Dividend
BCE stock currently has a dividend yield just under 6% and has a solid track record of dividend growth. Since 2008, its dividend has grown by 128%, with each increase at 5% or more. BCE dividend policy aims to grow dividends while maintaining a payout ratio (based on free cash flow) of 65-75%, and has done so over most of the past 12 years.
Throughout the 2020 Covid-19 crisis, BCE's dividend has remained well-covered by free cash flows, with YTD coverage at about 66%. Moreover, according to BCE:
"Our strong liquidity position, underpinned by a healthy balance sheet, substantial free cash flow generation and access to the debt and bank capital markets, is expected to provide significant financial flexibility to execute on our planned capital expenditures for 2020 and to sustain BCE's common share dividend payments for the foreseeable future."

BCE Q2 2020 Shareholder Report
As a 'boring' telecom provider, BCE has weathered the Covid-19 economic crisis remarkably well, as highlighted during its Q2 2020 presentation. Operating revenues declined by 9.1% year-over-year, but the business saw growth in other metrics. This adds to my confidence that BCE will be able to continue to pay its dividend throughout the ongoing crisis and beyond.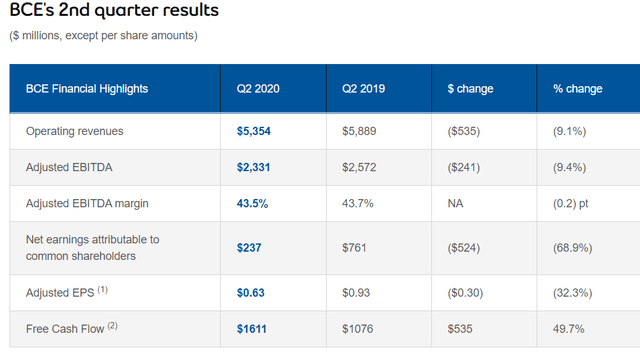 Source: BCE
Risks
The biggest immediate risks to BCE is the unpredictability of the pandemic and capital markets. However, as Q2 performance suggests BCE is hurting less than other companies.
Over the long run, I think the biggest structural risks to BCE are the following:
1. Changing viewer habits: Specifically, people 'cutting the cord' and moving away from traditional TV distribution. This is especially prevalent with younger generations.
2. Rising content costs: With the growing need for proprietary content – Netflix, Disney+, Crave, etc. – there is increased competition, driving prices upwards.
3. Market saturation: With such deep penetration, there are limits to new subscriber growth. However, the ability to continuously increase prices helps offset this risk. Continued population growth (once immigration picks up again post-Covid) will also help offset this risk.
Final Thoughts
Currently, BCE is neither cheap nor expensive. It trades at 17x forward earnings – reasonable and far below many other alternatives in this effervescent market.
In my opinion, BCE is fairly insulated from game-changing competition. As part of an oligopoly, BCE should retain pricing power and a strong hold of its customer base for a long time.
Over the long run I believe BCE revenue should be able to keep up with nominal GDP growth (at least) and will likely continue to grow dividends in parallel. While I'm not expecting massive BCE stock price appreciation, I would be happy with a slow grind upwards supported by a growing dividend stream.
For these reasons, BCE is one of my 'buy-hold-and-forget' holdings.