If you own your home (i.e. mortgage free) and over age 60, you've likely seen ads for reverse mortgages. A 30 second ad can make a reverse mortgage appealing, however you must consider the true cost.
Note: For reference I've posted a couple ads below:
Essentially, a reverse mortgage is a loan (using your house as security) on which you don't have to make re-payments. Instead, any interest accrued on the loan simply gets added to the principal. While the thought of not making payments can sound enticing, a reverse mortgage can be one of the more expensive ways to access money in retirement.
People get reverse mortgages to access the equity in their homes to pay off debt (including a pre-existing mortgage), cover medical expenses or make home modifications. Many use a reverse mortgage – as opposed to other forms of debt – because they don't have to make payments until they (or their estate) sell their house. This frees up cash-flow. Homeowners are still expected to maintain the property and pay all property taxes and insurance costs, or risk foreclosure.
Before using a reverse mortgage, people must be aware of the total costs. I believe there are usually better alternatives.
First of all, the interest rates on reverse mortgages tend to be higher than conventional mortgages. Home Equity Bank sells the CHIP Reverse Mortgage and provides a bar chart that compares loan rates below. Based on the information they provide, the interest rate on reverse mortgages tends to be about double that of conventional mortgages, but cheaper than unsecured loans, credit cards, etc.
I frequently say reverse mortgages are expensive, but I'll admit they're still cheaper than some alternative forms of borrowing. However, there is more to the total cost than the interest rate alone.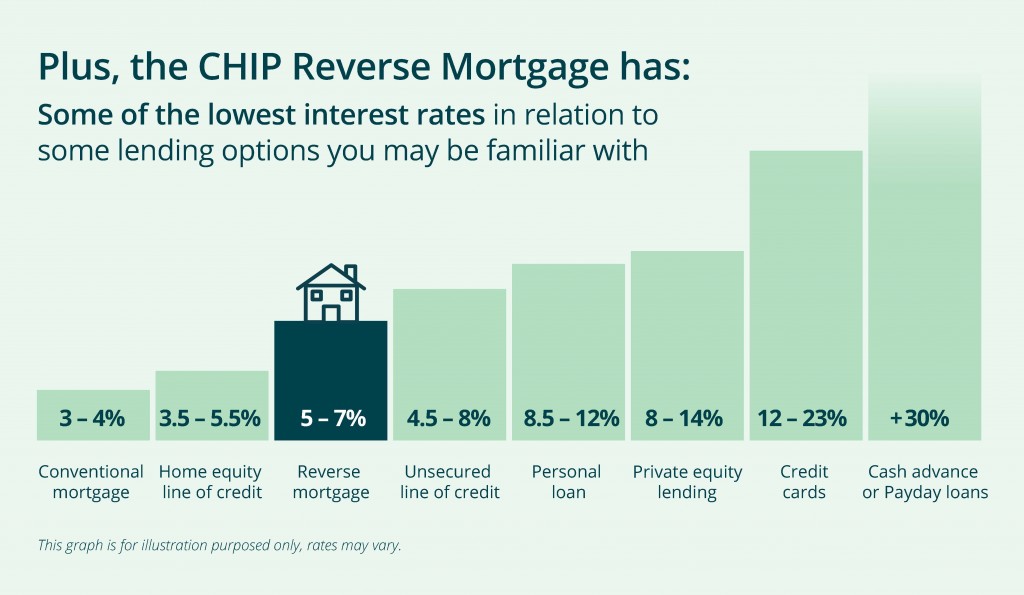 Since you're not making interest or principal payments on the loan, interest expenses get added to the principal. This is what really drives the cost of a reverse mortgage.
Effectively, as the mortgage compounds you pay interest on interest. In other words, the amount you owe grows at an exponential rate over time. The table below – again provided by Home Equity Bank – shows how a $150,000 loan becomes $204,939 in only five years at a 6.34% mortgage rate.
If we extend that scenario to ten years, the total amount owed becomes $282,299. That's almost double the amount of cash originally received when the loan was originated.
The CHIP Reverse Mortgage allows homeowners to access up to 55% of the value of their house. So let's imagine you're sitting on a fully paid-off houses in Toronto worth $909,090. Using a CHIP reverse mortgage you can borrow $500,000. As you can see in the graphic below, in ten years, you owe $940,996 – more than the value of your home when you took out the loan.
Of course, during the decade the value of your home might also rise, in which case you would still have positive equity. Regardless, in the end you're paying $1.82 back for every dollar you borrowed. As you can see, the cost of a reverse mortgage is almost equal to the amount of the original loan.
Some borrowers might not be bothered by this – in the end it's not their loan to repay. At death, the estate will sell the house, repay the reverse mortgage and whatever's left over will go to the deceased person's heirs.
However, the family unit might not want to sacrifice a million-dollar asset in exchange for $500,000, while praying the house appreciates in value over time so there's something left over. Despite the experience in Canada over the past couple decades, housing prices don't always rise – just ask someone who owned a Toronto home in the 1990s.
A fully paid-off house represents your lifetime of sacrifice and effort. To swap it for half its value and hope to get something in the end is a waste and a gamble, in my opinion. While history has shown that real estate prices keep up with inflation, this should not be the expectation when getting a reverse mortgage. In my opinion, any form of borrowing should be made under the most conservative assumptions.
If you or anyone you know is considering a reverse mortgage, PLEASE be aware of the true costs. Get the family together and consider whether it makes more sense for other family members to help cover retirement expenses to help preserve ownership of the house within the family. If you must borrow, consider using a more conventional loan that gets repaid over time. This will help avoid the costs of compounding.
If there are no other alternatives consider selling the house.
In this case you'd get $909,090 today. (For simplicity's sake, I'm not considering transaction costs of either selling or entering the mortgage.) The $500,000 could be used to fund retirement costs. The remaining $409,090 could be invested and withdrawn to pay for an apartment. If your investments earned 5% and you withdrew $2,000 per month for an apartment you'd still have $361,917 after ten years. Would you have this much in equity in your house in ten years? Maybe. Maybe not. The thing is the liability is a sure thing, the asset price is not. Of course, the value of the portfolio isn't a sure thing either. However, it is liquid and that has value.
Finally, I think it could be a great idea to use the $409,090 to purchase a larger house so you can live with the rest of your family. The money then remains in the family (as opposed to paying rent to an outsider) and everyone is together.
Buyer Beware Part 1: Market Linked GICs

New series that reveals what they don't want you to know

Most anticipated recession ever.

The effects of tightening financial conditions are seeping into the real economy. Restrictive monetary policy and quantitative tightening have dramatically increased the cost of capital for the corporate world. Consequently, lenders are cautious and companies are pausing capital investments and curtailing expenses. At the same time, a glut of inventory in some sectors is slowing […]

Are People Opting Out of the System?

Over the past couple years I've noticed a small but increasingly vocal portion of society that has given up on their futures. In public, you'd never know who these people are. They could be your coworkers, friends or family. Many don't publicly express their views, but anonymous channels like Reddit are allowing these people to […]