How much should you be saving? Many people have no idea.
David Bach, author of The Automatic Millionaire, provides his recommendation:
Why does it rise with age? According to Bach, "typically the older you get the more you earn and spend. And if you lose your job it can take longer to find a job that replaces that income."
I've witnessed this first hand. It frequently takes a senior executive 1-2 years(!) to find comparable employment. I can only imagine how devastating this can be to the ego, savings account and family dynamic. Since senior executives tend to be in their 40s or 50s, they probably have exhausted marriages, college-aged kids and massive responsibilities. There is no worse time to stop the regular paychecks.
This is where years of socking away money into an emergency fund helps. But how many people are doing this? The reality is quite bleak – 26% of Americans have no emergency savings at all. This means they'd be dipping into their retirement funds if an emergency occurs. Unfortunately, the median retirement account savings for Americans is only $5,000.
Unfortunately, these dollar amounts leave most people far behind target. JP Morgan provides a table (below) that illustrates how much people should have saved, given their age and salary. (I've also provided other retirement savings target tables below.)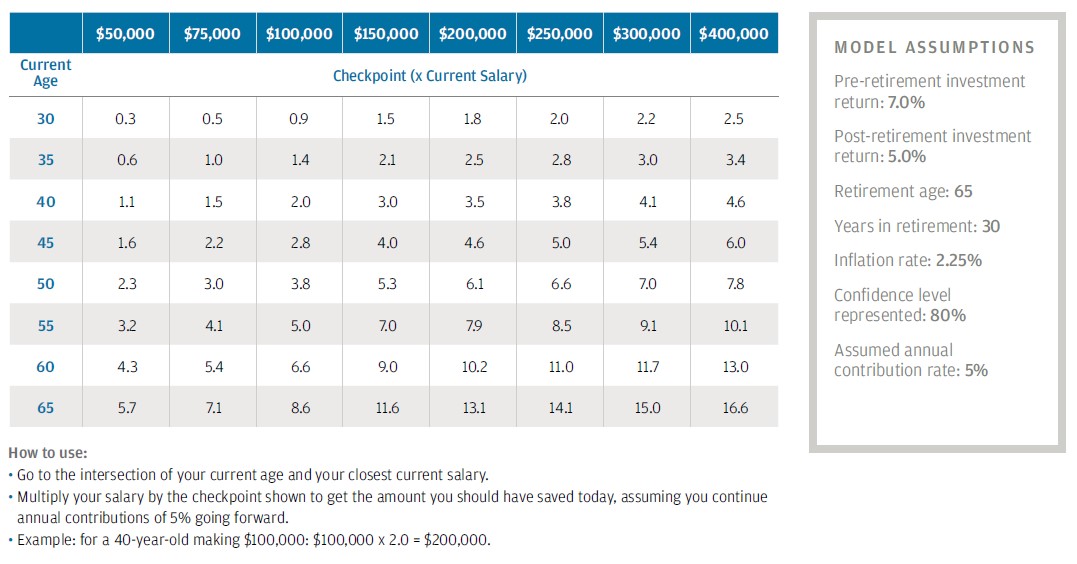 The problem I have with all of these tables is that they're based off a multiple of your current salary. Not only that, but the multiple rises with income. This presumes that you plan to retire into a lifestyle that requires your full current salary.
Most people require about half their salary during retirement. In dollar terms, many retirees could live happily off $40-50k. For those of us who live frugally and plan to continue doing so during retirement, the actual dollar amount required at retirement might be much lower than the estimates provided by these tables.
If you've calculated your estimate and feel like you're way behind, you're not alone. According to GoBankingRates.com, almost 1/3 of people in the prime of their careers (aged 35-54) have ZERO retirement savings.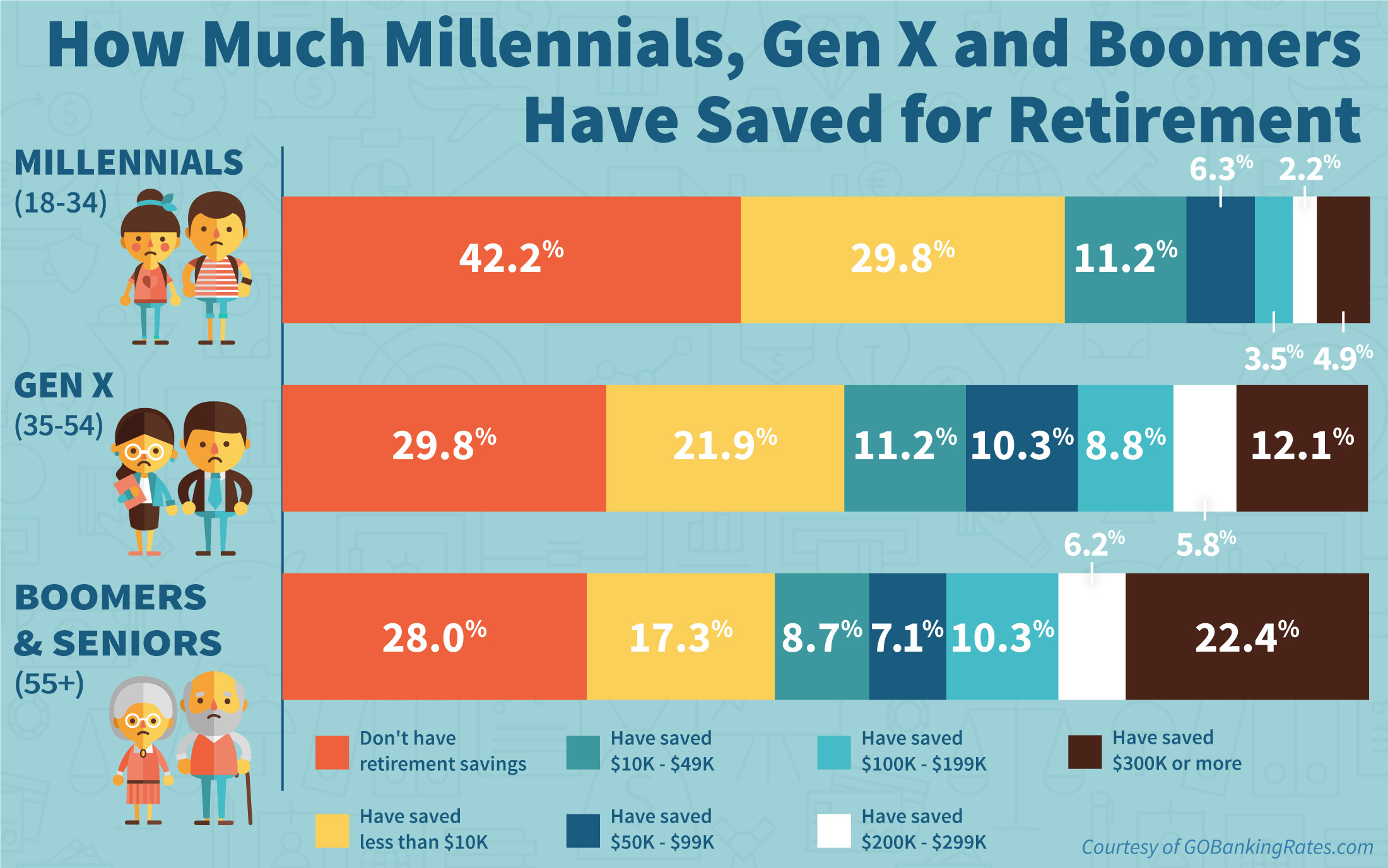 Why are people so unprepared?
The average person is financially illiterate. In 2011, the Investor Education Fund conducted a survey and found that only 29% of respondents could pass a basic financial literacy test. If people don't understand basic personal finance, they sure as hell aren't taking the right steps to secure their financial future and prepare for emergencies.
The average person must become more invested in their financial future. I'm happy to see that the Ontario government is working towards mandatory financial education in high schools. More must be done. Unfortunately, by the time a student reaches high school many bad financial habits have already formed. Parents still have the ultimate responsibility teach their children values and behaviors that support financial freedom and flexibility.
As I alluded to earlier, the risk of ignorance is financial ruin, divorce and missed opportunities for your kids.
Get Your Free Copy of CoronaCrisis: