Today, the price per barrel of West Texas Intermediate reached a low of -$40.32. That's right: the price was negative.
West Texas intermediate (WTI), also known as Texas light sweet, is a grade of crude oil used as a benchmark in oil pricing.
Everyone has the same question: How is this possible?
The reality is that there is simply too much oil being produced right now and not enough demand. Production is being curtailed globally, but that takes time. It's not like a light switch that can simply be turned on and off.
The chart below shows supply and demand for the world oil market going back to 2000. As you can see, most of the time there tends to be minor variance between supply and demand.
In contrast, today the gap between supply and demand is extremely wide. This means there is a massive surplus of oil being produced right now.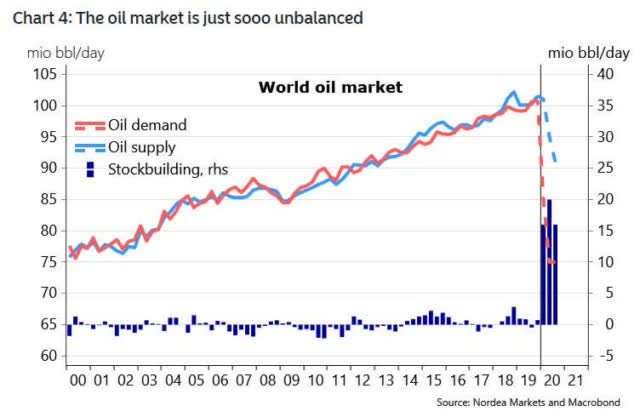 That oil needs to be stored somewhere, and as storage capacity is maxed out fewer people are willing to take delivery.
With May 2020 WTI futures contracts expiring on April 21, oil producers are desperate to offload about 100 million barrels. With limited storage and plummeting demand, producers are now forced to pay others to take the oil off their hands. Nobody wants to take delivery and the oil has to go somewhere.
You read that right. Oil producers right now must pay others to take delivery of their oil. Of course, anyone taking delivery must have somewhere to put it and means to transport it. That all costs money. 
As the Covid-19 coronavirus economic catastrophe rages on, it is likely that energy markets continue to implode – at least until supply and demand can be more closely aligned.
Vanguard Energy ETF (VGE), Exxon (XOM), ConocoPhillips (COP), Chevron (CVX) and Canadian Natural Resources (CNQ) are getting hurt badly today. However, the United States Oil Fund (USO) is down even more, more closely reflecting the maturing May contract.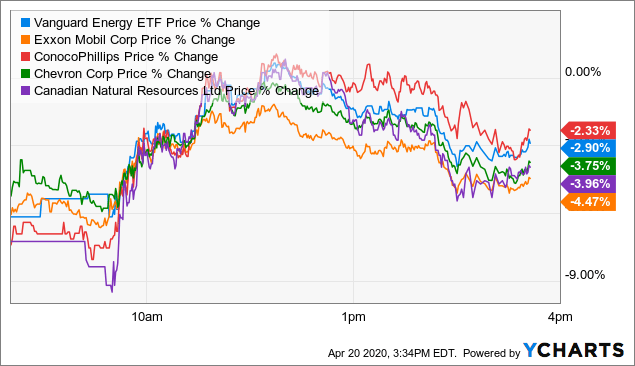 Is this epic collapse an epic opportunity?
Beware if you're considering buying an ETF that buys oil futures like the United States Oil Fund (USO). These types of ETFs shouldn't be used to get long-term exposure to oil.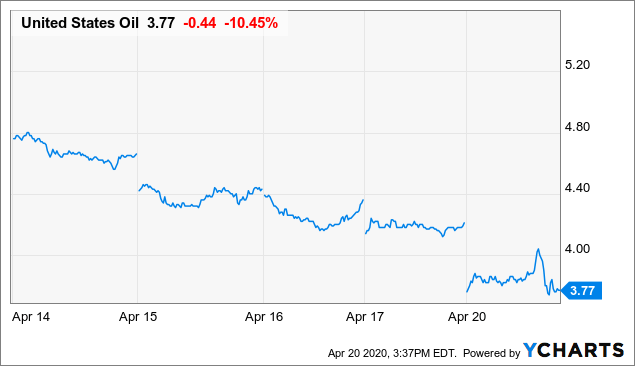 Oil ETFs tend to invest by purchasing futures contracts (i.e. they don't actually buy barrels of oil). When a futures market is in "contango" (see chart below) futures contracts expiring near-term have a lower price than those expiring farther out into the future. The oil futures market is currently in record contango. Indeed, there is currently (mid-day April 20th) roughly a $50-60 spread between the May and June contract. 
Even if prices along the futures curve for Oil remains constant, when the market is in contango an oil ETF that buys futures contracts will experience a negative roll yield as future contracts approach expiry and converge with lower spot prices. This is a great way to lose money over the long term. Oil ETFs that invest in futures contracts are best used for very short term trades.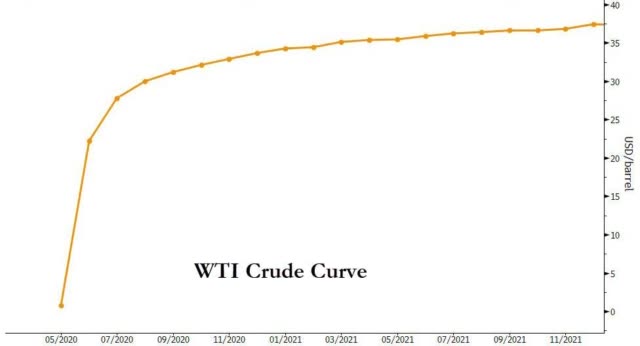 If you are brave enough to invest in energy right now as a long term play, I would instead choose an ETF that invests in actual producers.
If you found this article helpful, please forward to a friend or colleague you think might benefit.
Get Your Free Copy of CoronaCrisis: A 47 Page Guide to Surviving the Coronavirus Economic Collapse