Mainstream media reports:
The stock markets are breaking through new highs.
The economy is 'booming'.
Unemployment is at a record low.
Jobs numbers are 'blockbuster'.
So why does it feel like you've fallen behind in life? Because you have.
According to one economist, the United States (and much of the Western world, for that matter) has been going through a 'silent depression' since 2007.
The following charts illustrate this perfectly.
1. The chart below compares employment growth across time. Instead of simply looking at the number of new hires, this chart illustrates new hires as a percent of the workforce. (1000 new hires means a lot less when the workforce includes 1,000,000 people than 10,000 people.) According to the chart, workforce growth significantly declined after the early 2000s recession and has remained historically low since.
2. The chart below compares per capita GDP growth since 2007 against the last two economic depressions. It turns out that the silent depression has been worse than the previous two depressions. (Source: The Silent Depression, by Emil Kalinowski.)
3. The next chart shows real median income ('real' accounts for the effects of inflation) in the US. Since January 1, 2007 real median incomes have only grown by 3.6% (total, not annualized!). So where did all the economic 'gains' reported by the media go?
4. The chart below tells the same story as the previous chart, except using average hourly wages going back 40 years. Again, real incomes have not budged.
5. Here's where the gains have gone! The chart below breaks out real income growth by categories of earners. The top 10% of earners have experienced substantial growth while everyone else has remained flat. The gains have all gone to the rich.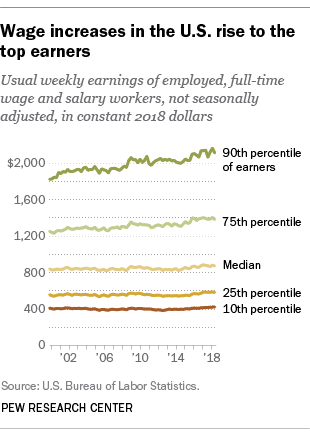 6. The following chart shows the same information as the previous chart, except in a longer timeline. Again, the top earners (especially those in the top 1%) have hoarded all the gains.
There you have it. The economy has grown. But on an individual level overall growth has not been as strong as the headlines imply. And unless you are in the upper echelon of society, none of those limited gains went to you.
Subscribe (free) for more updates from DumbWealth:
#mc_embed_signup{background:#fff; clear:left; font:14px Helvetica,Arial,sans-serif; } /* Add your own Mailchimp form style overrides in your site stylesheet or in this style block. We recommend moving this block and the preceding CSS link to the HEAD of your HTML file. */